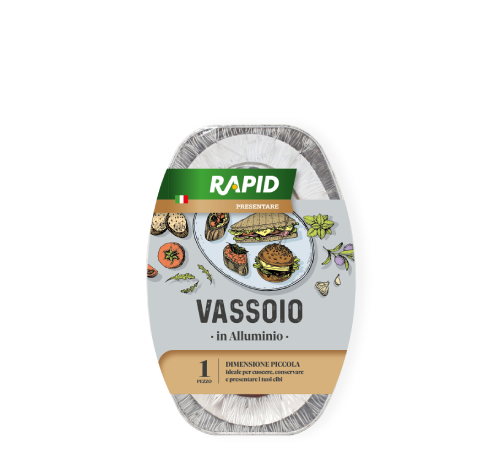 Aluminium • 1 piece – small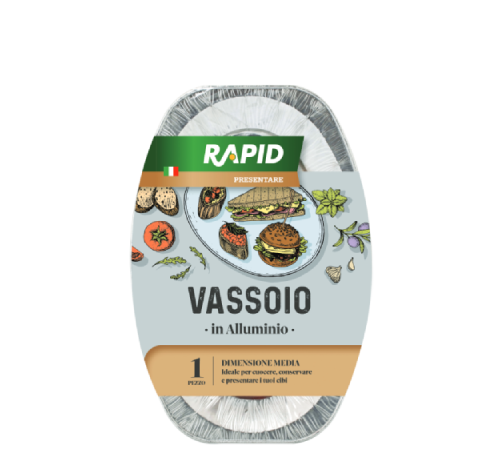 Aluminium • 1 piece – medium

Do not use in contact with very acidic (e.g. vinegar or lemon juice) or heavily salted food. If used with other food for longer than 24 hours, please store in the fridge or freezer.
Cooking for longer than two hours is not recommend if the dish contains sauce or gravy.
When freezing, do not fill the tray any higher than ½ cm below the rim to prevent food from spilling out.
Do not place the tray in direct contact with electrical components, a naked flame, or the sides of the oven or microwave oven.
Only use in a microwave oven if recommended by the oven manufacturer.
Handle with care when removing from the oven or microwave oven as the container may be extremely hot.
Never place an empty container in the oven or microwave oven.
Rinse before use.
Before placing in the freezer, leave the contents of the tray to cool and handle with care.

Rapid S.p.A. | via Commercio 4
25011 Calcinato BS Italy
tel. +39 030 9985044 | rapid@rapid.it
Rapid S.p.A. | via Commercio 4
25011 Calcinato BS Italy
tel. +39 030 9985044 | rapid@rapid.it
A sole-shareholder company
Share capital € 520.000 paid.
VAT No./Tax Code 01551070988
Società Soggetta a gestione e coordinamento di Romagnasac dal 01/07/2023
Capitale Sociale € 520.000 i.v.
P.iva/Cod.Fisc. 01551070988