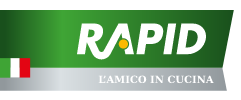 YOUR KITCHEN ESSENTIALS
The kitchen is a place for meeting, socialising
and enjoying good company, where we most appreciate
the convenience, practical design and functionality
of simple yet useful essentials.
Our well-stocked Rapid corner offers the best available products for
cooking, storing, freezing and protecting
food and our culinary creations.
Our products are the ideal solution for
avoiding waste and burnt-on food,
using less oil,
retaining full flavours and aromas,
and they help you save hours of time and effort.
You have the creativity
to conjure up delicious dishes,
we are just here to help you
with readily available solutions.


Rapid S.p.A. | via Commercio 4
25011 Calcinato BS Italy
tel. +39 030 9985044 | rapid@rapid.it
Rapid S.p.A. | via Commercio 4
25011 Calcinato BS Italy
tel. +39 030 9985044 | rapid@rapid.it
A sole-shareholder company
Share capital € 520.000 paid.
VAT No./Tax Code 01551070988
A sole-shareholder company
Share capital € 520.000 paid.
VAT No./Tax Code 01551070988